J-Physics 2017: International Workshop on Multipole Physics and Related Phenomena
The J-Physics project will host the 1st International Workshop on the Multipole Physics and Related Phenomena in September 2017 at the stage near the halfway point of the project. This workshop aims at presenting the outcomes of research activities of this Innovative Area both in and outside Japan, and expanding the international exchange and cooperation activities. We look forward to your active participation and presentation.
Dates: September 24 (Sun.) 16:00 〜 September 28 (Thu.) 12:00, 2017
Venue: Hachimantai Royal Hotel
590-5 Daiichichiwari, Matsuoyoriki, Hachimantai-shi, Iwate 028-7394, Japan
http://www.daiwaresort.jp/en/hachimantai/index.html/
Important Dates:
・June 2017: Registration Opens
・July 15, 2017: Presenter Registration Deadline
・July 2017: Workshop Program Announcement
・August 10, 2017: Registration and Extended Abstract Submission Deadline
Workshop Fees:
・Participation: Free
・Banquet: 10,000 JPY
 (The price is reduced by 3,000 JPY for the guests of Hachimantai Royal Hotel)
・Bus Excursion: 3,000 JPY
Accommodation:
All participants are basically required to stay at Hachimantai Royal Hotel. Please make a room selection on Registration Form.
Excursion
September 26, 13:00 - 18:00
Bus tour for Yakebashiri Lava Flow
http://www.japan-iwate.info/app/location_detail.php?lid=110
Banquet
September 26, 18:30 - 21:00
Hachimantai Royal Hotel
Payment
Participants are requested to pay the expenses using a credit card or cash on site.
Topics:
・Quadrupole, octupole, and higher order multipole ordering
・Quantum phase transition and quantum criticality
・Anomalous pairing superconductivity
・Exotic phenomena caused by parity violation
 (Parity mixing, antisymmetric spin-orbit interaction, odd-parity multipoles)
・Dynamical response generated by augmented multipoles
・New materials with strong spin-orbit coupling
・Experimental techniques to detect multipoles
Satellite Workshop:
"Physics of Uranium based Superconductors"
September 29 ? 30, 2017 at Tokai Ibaraki
http://asrc.jaea.go.jp/soshiki/gr/MatPhysHeavyElements/u-physics/index.html
Registration:
Registration is closed. If you need to cancel your participation, please inform us via e-mail at secretary_@_jphysics.jp (please replace _@_ by @).
Note that you will be charged cancellation fees for banquet, excursion and accommodation, if you cancel them after 17:00 p.m. (Japan time) on September 15.
Abstract:
Workshop Abstract can be downloaded here.
Access to the Workshop venue:
Access guide(Japanese) Download
Access guide(English) Download
Workshop Program: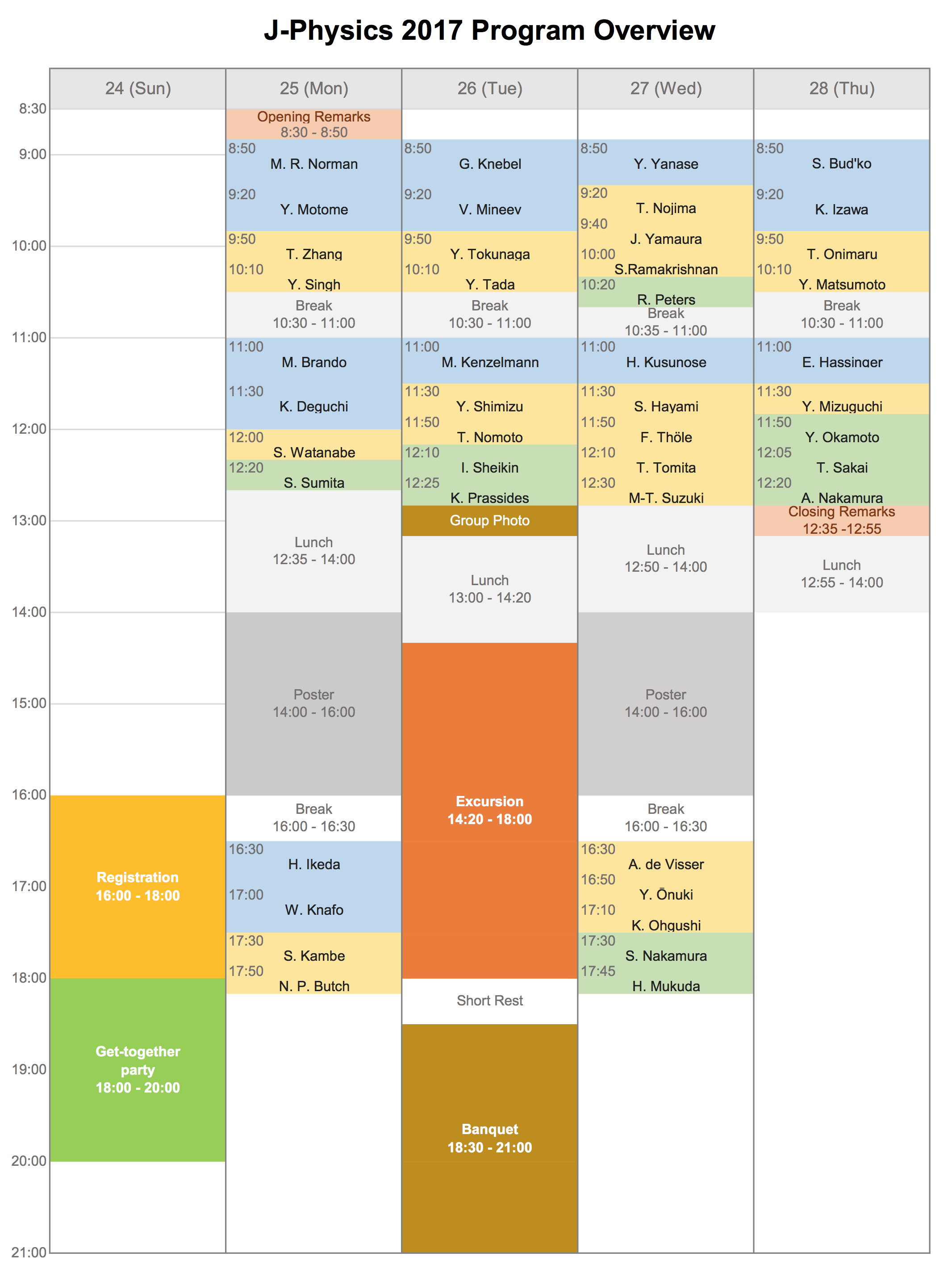 JPhys2017 Program Overview DownLoad